Peace Silver Dollars were struck from 1921 until 1935. The Peace Dollar coin contains 90% silver. Each has an approximate silver weight of .7734 troy ounces per coin.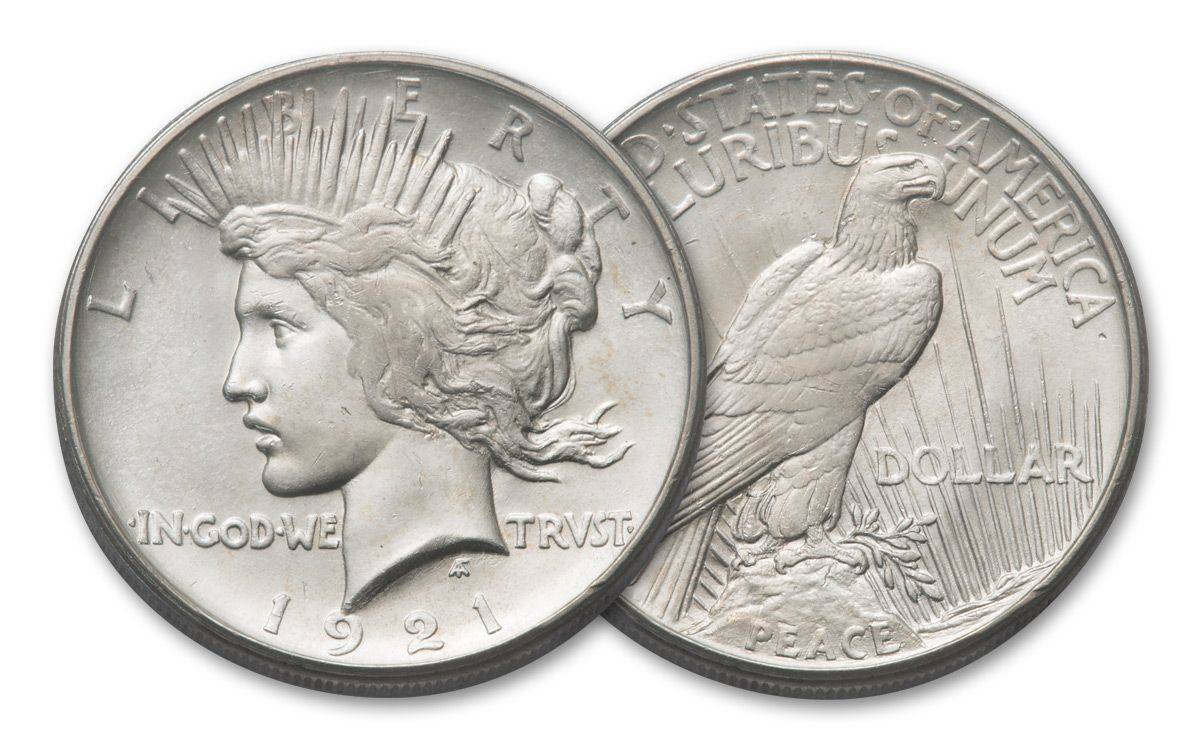 After the First World War the United States began it's ascension as a world leader. The culture of the country had begun to shift from it's role in the war to a time of peace and prosperity. A new design for the Silver Dollar Coin was introduced to help convey that sentiment to the public.
Peace Dollar Design
The Peace Dollar coin was design by Anthony de Francisci. de Francisci was an Italian immigrant and novice coin designer. He said his goal in designing the coin was to "capture the spirit of the country–its intellectual speed, vigor and vitality".
de Francisci also designed a number of other commemorative coins and medals, however, the Peace Dollar remains his most famous work.
The obverse portrays a left-facing portrait of Lady Liberty with her lips slightly open. Surrounding the portrait along the edge of the coin are the inscriptions of LIBERTY, IN GOD WE TRUST and the year.
The reverse design shows a Bald Eagle perched on a rock, holding only an olive branch in it's talons representing peace. Gone from the design are the arrows which represented war. Also included are the inscriptions of PEACE, UNITED STATES OF AMERICA, E PLURIBUS UNUM, ONE DOLLAR.
Coins were struck in all of the major US Mint facilities, Philadelphia, Denver and San Francisco. For coins minted outside of the Philadelphia Mint, the mintmark is shown on the reverse.
During the first year the Peace Dollar was struck with a high relief. This caused issues with the dies that were used for minting the coins. In 1922, the dies were retooled with a lower relief.
The Philadelphia Mint produced only 360,649 Peace Dollars in 1928, making this is a key date and the rarest coin in the Peace Dollar series.
Peace Dollar Specifications:
Years Minted : 1921-1935
Mints: Philadelphia, Denver, San Francisco
Mintmark: No Mintmark, D, S
Gross Weight: 26.73 grams
Silver Weight: 24.055 grams (0.7734 troy ounces)
Diameter: 38.1 mm
Edge: Reeded
Composition: 90% Silver, 10% Copper
Estimated Mintage: 190,577,000
Coin Designer: Anthony de Francisci